The Citadel
Class Of 1990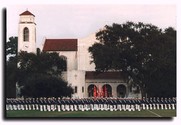 30 Reunion Hotel Information
Direct Booking Link:
30th Citadel Reunion- Reservation Link
**Please note: the website will show an AVERAGE rate, not a nightly rate (So, right now, the link shows an average rate of $132.33/night plus tax for standard rooms ($99 Thurs, $149 Fri & Sat) and $152.33 for suites ($119 Thurs, $169 Fri & Sat). Guests can change their arrival and departure dates and the average rate will update accordingly.**
**FREE Breakfast and FREE Wi-Fi!**
If the link does not work, please follow the instructions below to reserve a room:
Online – Go to www.wyndhamgardenmtpleasant.com search by date (between the range November 5-8, 2020) . Under Special Rates, click Group Rate, and enter code Citadel2020– this should populate your discounted rate and group name for booking.
By phone – please call the hotel directly at 843-352-5100, or our central reservations for Wyndham at 877-999-3223 and reference your group name (30th Citadel Reunion) and / or dates of stay and any reservations agent should be able to assist with your group rate reservation.
If you have any questions or concerns please contact the sales office directly at 843-352-5151, or 843-352-5152 and ask for Stephanie or Karen